Idefestivalen web site was developed for the University in Oslo's 200 anniversary.
The site was split in 4 full day events for ideas, lectures and discussions.
The site fetchers a cool banner navigation using jquery scripting,  festival program for the events and a blog.
A  responsive web magazine also developed for "on site" information. The responsive web design made it excellent for mobile browsers. This was located at ideavis.uio.no
Technical implementation: mIr consult
Web design: brenneriveien
Client: UIO200 (oslo university)
Website: idefestivalen.uio.no & ideavis.uio.no
---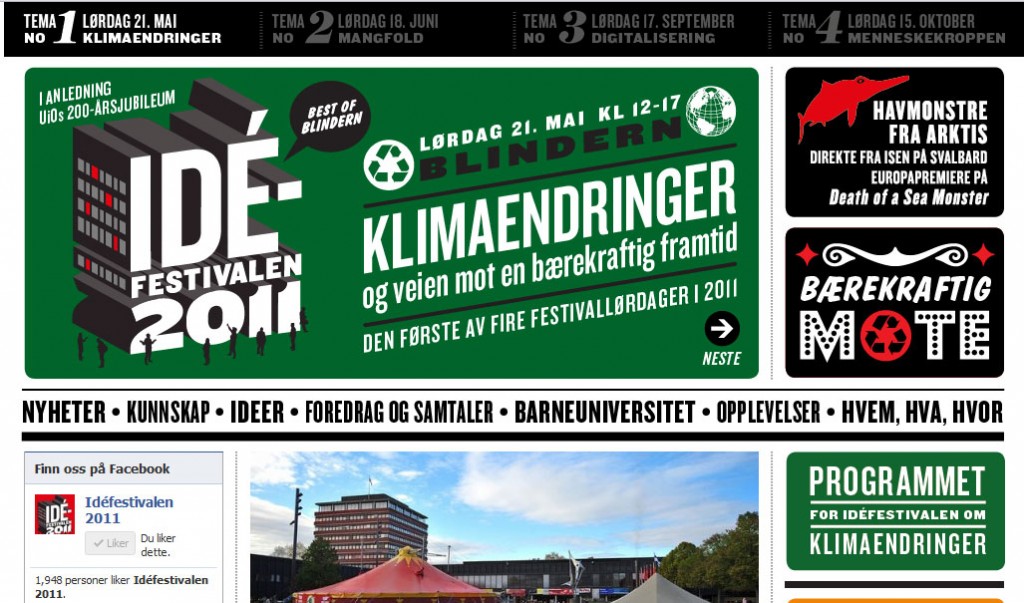 Om idefestivalen:
Universitetet i Oslo fyller 200 år i år, og vi feirer med fire store idéfestivaler på Blindern om henholdsvis klimaendringer (21. mai), mangfold (18.juni), digitalisering (17. sept.) og mennskekroppen (15. okt.). Under festivalene opplever et stort Oslo-publikum publikum foredrag, samtaler, debatter og mer uvante akademiske sjangre som hurtigforedrag og idé-ping-pong. I tillegg blir det musikk, kunst, barneuniversitet, film og utstillinger for hele familien på Blindern disse fire lørdagene.